Hotel Must-Have Amenities
Hotel Must-Have Amenities
Planning to travel somewhere soon? When looking out for accommodation or places to stay for your upcoming vacation, you tend to scour online bookings and travel sites for the suite, room or apartment that will suit your needs. In most cases, a hotel is your best bet when visiting a new location for a short period. So what are your basic hotel must-have amenities that make your stay a worry free one? Here are some essential points to consider when choosing a hotel for your upcoming trip.
Cozy Beds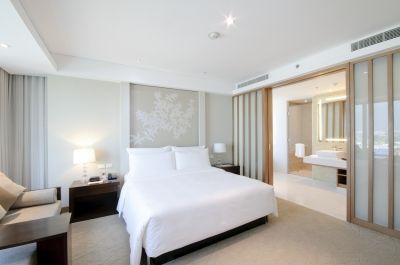 Booking a hotel is primarily for your sleeping in and accommodations, so make sure that you choose one with firm and clean beds. It must have quality sheets and pillows so you'd feel refreshed after a good night's sleep. 
Nice Bathrooms
Bathrooms do play an important part of how you'd enjoy a place. A faucet or shower with weak water pressure or worse, a waterless one can easily ruin your trip. Check for roomy toilet and bath with adequate lighting and good water pressure so that you can relax after a busy day of business, shopping or beach bumming.
Top of the Line Security
When you are in an unfamiliar territory, a hotel that ensures the safety of their guest is the best place for you to stay. They should have guards at the lobby or the entrance, CCTV cameras in the hallways and is located in a well-lit busy area. Your room should have a safe where you can keep your valuables secure.
Other considerations for choosing a hotel is the availability of a gym or an indoor pool for health and fitness buff. Those who cannot be disconnected from the outside world would put wi-fi and internet connection as a necessity. How about you, what hotel must-haves do you consider when choosing a place to stay?