Top 5 Places to Visit in Australia
Top 5 Places to Visit in Australia
The world is full of incredible sights, from natural wonders to man made marvels. Keen travellers have been making pilgrimages all across the globe for decades, hopping on planes, trains and boats.
Australia is known for its immense size, the fascinating array of flora and fauna, and the outstanding array of natural attractions that draw thousands of visitors every year. If you're planning a trip to Australia, found an affordable travel package from a company like Flight Centre and want to get the best experience possible, we'd recommend you try to check out some of the country's best known places, from the untouched landscapes to the metropolitan and modern experiences available to visitors everywhere.
The Great Barrier Reef
The Great Barrier Reef is somewhat synonymous with Australia, and no list of attractions or trip to Australia would be complete without it. Australia is famed for its rare and unique animals and plant life, and there's no better place to witness this than the 2,300 miles of the reef. There are various places to visit here, all offering their own unique experience, with plenty of options for sailing, snorkelling and scuba diving packages available for holiday makers.
Jenolan Caves
Located in the foothills of the Blue Mountains, the Jenolan Caves offers 11 stunning natural caves, underground rivers and incredible limestone formations. This is an ideal place to visit all throughout the year; as the caves are underground they maintain the same temperature in the heat of summer and chill of winter!
Sydney Opera House
It might seem like a cliché, but the Sydney opera house is one of the most iconic sights that Australia has to offer, and it's a must-see for that exact reason. Visiting Sydney is one of the things that you simply have to do when in Australia, and the city has plenty to offer aside from the famous opera house.
Uluru/Ayers Rock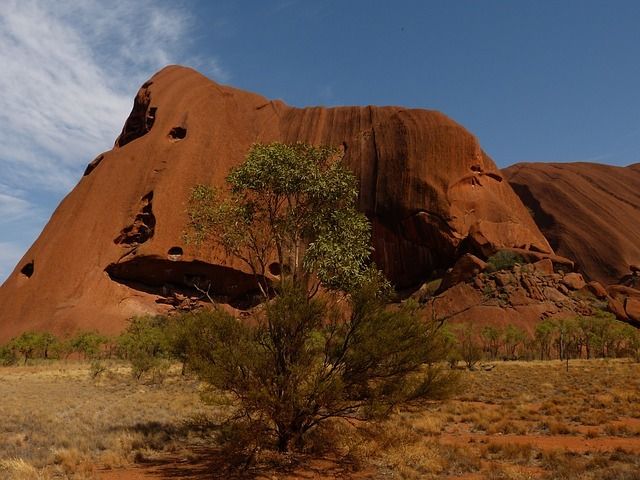 The Sydney Opera House is Australia's most iconic man-made attraction, and Uluru is arguably the most iconic natural landmark. The rock is rich in history and mysticism, close to Australia's 'Red Centre.' There are various walking tours available, taking you anywhere up from three to seven days to see everything on offer.
Whitehaven Beach
Located in the Whitsunday Islands, Whitehaven beach is a seven mile stretch of pure white sands and sparkling azure waters. Ideal for those looking to relax in a truly beautiful, serene atmosphere, the beach is known for its eco-friendliness, and the white sand means that your feet won't burn, as it doesn't retain the heat!
What other places in Australia would you recommend to holidaymakers? This is only beginning to scratch the surface of what Down Under has to offer!