Surfs Up: A Gnarly Guide to Catchin' Waves
Surfs Up: A Gnarly Guide to Catchin' Waves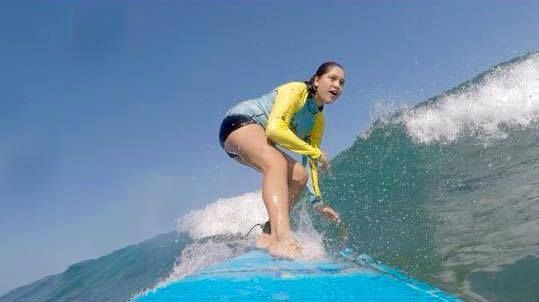 After writing a post about Four Sports to Try in 2016, we thought it would be helpful to write a beginners guide. Today, we're going to focus on surfing, which has fast become one of the most popular sports to participate in. You may love to kick back on the beach and watch the surfer dudes ride the waves, but why have you never attempted it for yourself? It's a lot easier than you might think, and here are a couple of ways you can get started.
Choosing the Right Equipment
Surfing is a sport that takes a great deal of skill to master, but equally, you're only ever as good as your gear. A lot of people make mistakes when it comes to buying surfing equipment for beginners. The chief mistake amongst them is to buy a shortboard. You know, like all the seasoned veterans ride on. Nope. The quickest and easiest way to learn how to surf is on a longboard, even if you have aspirations of becoming a short board surfer.
To complement your radical new board, you're going to need a proper wetsuit, too. Not many people know what they're looking for when it comes to a high-quality wetsuit, especially if you're a beginner. The truth is that the thickness of your wetsuit will be determined by the water temperatures in your area. In hotter climates, you aren't going to need a thick suit. But if it's feeling a little chilly, you may have to think about trading up. You can't go far wrong with Billabong wetsuits, who are one of the most universally adored providers.
Time and Place
As a beginner, you're going to want to act like one. You can't be expecting to go diving in the deep end with the big boys! First, you've got to learn how to hone your craft. To do this efficiently, you're going to need plenty of space to operate. You aren't going to get that if you head down to the same place that all the beach dwellers reside. Choose a quiet spot, and make sure the weather is agreeable for surfing. Your exploits may have to wait for a day with clearer waters.
You should also learn all of the warnings signs and how to deal with them. For example, rip currents can be dangerous if you don't know how to handle yourself in that scenario. You may consider enlisting the help of a proper tutor to help you get to grips with the finer details of your new hobby. That way, you're all brushed up on your knowledge and will be able to get yourself out of any tight spots safely.
Above all, the most important rule is that you remember to have a good time. This is supposed to be fun! Be courteous, polite, and respectful, and you shouldn't encounter too many problems. Once you're all brushed up on your surfing knowledge, you're free to go out and explore the uncharted waters. Just remember to adhere to surfing etiquette.
Image credits to: Stacey Diane Pierce